Mindfulness-Based Stress Reduction 8 Week Course (MBSR)
with Dr. Maureen Hall
February 5 - April 2, 2019
This 8-week, 10-session, MBSR course is based on systematic and intensive training in mindfulness meditation and mindful Hatha yoga and their applications to everyday life. Course consists of orientation, 8 two-hour weekly classes, and one full day retreat.
The MBSR curriculum focuses on the experiential cultivation of both formal and informal mindfulness practices as a foundation for the cultivation of positive health behaviors and psychological and emotional resilience. These practices can be effectively used on a daily basis for the remainder of one's life. The approach supports the learning, strengthening and integration of a range of mindfulness-based self-regulatory skills while developing and refining inherent internal resources. A primary aim of the program is to cultivate ways of learning and being which can be utilized far beyond the completion of the program.
Customized manual will be included with the course.
Recommended reading:  "Mindfulness for Beginners: Reclaiming the Present Moment and Your Life"
Leader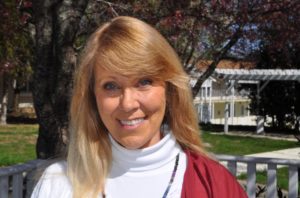 Dr. Maureen Hall
Dr. Maureen Hall is a Chiropractic Physician, Acupuncturist and Energy Healer specializing in mindfulness-based interventions for stress, and workplace wellness. She has been teaching the eight-week Mindfulness-Based Stress Reduction (MBSR) course at Missouri University of Science and Technology, each semester, since 2010-2017, and St. John's Integrative Medicine in Springfield, MO 2006 and 2008.  She teaches stress reduction and mindful parenting workshops nationally and offers private counseling.
Learn more about Dr. Maureen Hall