Mindfulness-Based Stress Reduction (Course is 9 weekly classes, Tues 6-8pm & 1 Full Day retreat)
with Acharya Dr. Maureen Hall
February 18 - April 14, 2020
Mindfulness-Based Stress Reduction (MBSR) is designed to help change your relationship with stress and begin to live a more conscious life in order to make choices and engage in behaviors that increase your vitality, effectiveness, and happiness. Since its inception, the Mindfulness-Based Stress Reduction program has been used with groups around the world as diverse as corporate employees, CEOs, educators, students (grade school through college), people experiencing chronic pain, attorneys, prison inmates, health care professionals, and Olympic and professional athletes–including the world champion Chicago Bulls and Los Angeles Lakers basketball teams.
In this MBSR course you will learn, or refresh, meditation skills as well as mind training that allows a letting go of that which we have no control over thus finding peace in the midst of the chaos in our world.
Music touches us in ways that words alone cannot. Dr Maureen Hall uses her song writing and music to punctuate the principles she is teaching in these classes.
This course is perfect for beginning meditators as well as a great jump-start for your practice if you've not been meditating daily.
Leader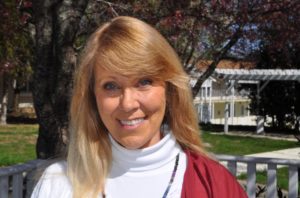 Acharya Dr. Maureen Hall
Acharya Dr. Maureen Hall is a Chiropractic Physician, Acupuncturist and Energy Healer specializing in mindfulness-based interventions for stress, and workplace wellness. She has been teaching the eight-week Mindfulness-Based Stress Reduction (MBSR) course at Missouri University of Science and Technology, each semester, since 2010-2017, and St. John's Integrative Medicine in Springfield, MO 2006 and 2008. Acharya Dr. Maureen has practiced Vipassana meditation for over 15 years and has completed extensive trainings including: Mindfulness-Based Stress Reduction in Mind-Body Medicine Professional Training with Jon Kabat-Zinn and Saki Santorelli, the 2 Year Spirit Rock/IMS Community Dharma Leader Program and the 2 year Dharmacharya Program…
Learn more about Acharya Dr. Maureen Hall