Eight Mindful Steps to Happiness (10 week course, meets Wednesdays 6-8pm),
with Acharya Dr. Maureen Hall
February 19 - April 22, 2020
This class will deepen your understanding of what it means to live your meditation practice.
It will help you acquire skills and modify your lifestyle and attitudes thus developing ways of being in the world that cause no harm. Learning to be a source of joy to yourself and others.
It takes time and practice to develop these skills. You wouldn't expect to play a Beethoven symphony without first having practiced the basics like scales and simple tunes first. Developing any skill worth having requires time, patience and practice.
Living a skillful life is the same in that respect.
In this 10 weeks you will have the opportunity to look closely at your habitual patterns of thought, speech, and action. Deciding what is useful and beneficial and what is not. Then beginning to carve away all that is not and to get a glimpse of that beauty that is at your core.
Your Full-Day Retreat, on March 28, and workbook are included in the cost of the course. You are on your own to purchase your textbook before class starts.The textbook is Eight Mindful Steps to Happiness: Walking the Buddha's Path.
Leader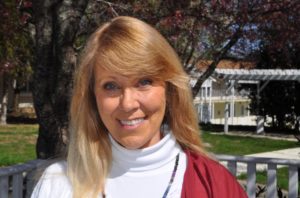 Acharya Dr. Maureen Hall
Acharya Dr. Maureen Hall is a Chiropractic Physician, Acupuncturist and Energy Healer specializing in mindfulness-based interventions for stress, and workplace wellness. She has been teaching the eight-week Mindfulness-Based Stress Reduction (MBSR) course at Missouri University of Science and Technology, each semester, since 2010-2017, and St. John's Integrative Medicine in Springfield, MO 2006 and 2008. Acharya Dr. Maureen has practiced Vipassana meditation for over 15 years and has completed extensive trainings including: Mindfulness-Based Stress Reduction in Mind-Body Medicine Professional Training with Jon Kabat-Zinn and Saki Santorelli, the 2 Year Spirit Rock/IMS Community Dharma Leader Program and the 2 year Dharmacharya Program…
Learn more about Acharya Dr. Maureen Hall