Pilgrimage to your Life: A Spiritual Writing Practice
with Venerable Somasiki
October 29 - November 1, 2020
Pilgrimage to your Life:  A spiritual writing Practice of personal exploration
We will follow the path of a pilgrim through writing, mediation, and other experiential activities to better connect with our inner landscape. The exploration of our own spiritual path can also nourishes our own creative hearts, calling us to threshold places within where the written word comes alive. Writing can take us to our own wild edges – where we claim space to dive into our creative hearts and encounter the call to step forward in our lives.
During the course of our weekend together, there will be time for writing, wandering, pondering, engaging with each other and time to quietly explore on our own.
In the morning writing sessions we draw on various themes from writings that come from various secular and non secular resources to inspire us. We will explore uncensored writing to break open the connection to our intuitive and wild selves, we discover new dreams and longings which have been carefully submerged. We will explore the joy of the process of writing itself as a journey of discovery. Through structured exercises, we begin to give shape to visions and longings. When we write and engage with various activities, we are able to experience the essence of things and so also discover what is essential to us. We
will have the opportunity to read aloud our work in partners and small groups.
The rhythm of our day will be shaped by slowing our pace, opening to ourselves and gathering together to immerse in writing and other activities in exploration of our own edges.
Open to writers and others who are willing and wanting to engage with their own personal journey. Writing exercises are meant to be generative of new ideas and visions and explore what it means for you to step into this pilgrimage with your self and others.
Leader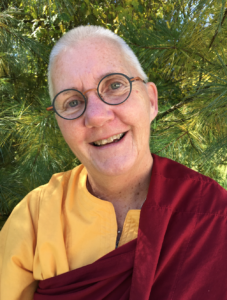 Venerable Somasiki
Venerable Soma is currently living at Heartwood Refuge, serving as Venerable Pannavati's Assistant and contributing as the coordinator of Treasure Human Life, the service component of Embracing Simplicity.  Prior to moving to Heartwood, she worked as a School Counselor in Portland Public Schools, and Clinical Social Worker as a child and family therapist in community mental health.  In addition, she has spent the last six years training educators around the country on mindfulness. Soma has a strong focus and passion in Mindfulness, Restorative Justice, and crisis intervention. She supports and assists practitioners in exploring strategies to support good wellness: letting…
Learn more about Venerable Somasiki