The Sadhana of Mahamudra
with Sister Barani
February 24, 2020
This is the Tibetan New Year (Year of the Iron Mouse). Barani will lead the sadhana which quells the mighty warring of the three lords of materialism.
"This is the darkest hour of the ages….. On the whole, no one acts according to the highest code of discipline, meditation and wisdom. The jewel-like teaching of insight is fading day by day. The Buddah's teaching is used merely for political purposes and to draw people together socially. As a result the blessings of spiritual energy are being lost. Even those with great devotion are beginning to lose heart. If the Buddahs of the three times, and great teachers were to comment they would surely express their disappointment. So to enable individuals to ask for their help and to renew spiritual strength I have written this sadhana of the embodiment of all the siddhas."              Chögyam Trungpa, 1968
For residents or advanced practitioners.
Some Vajrayana transmission/teaching required.
Participants can bring shrine offerings of flowers or food which can be consumed in the resident kitchen after the ceremony.
Leader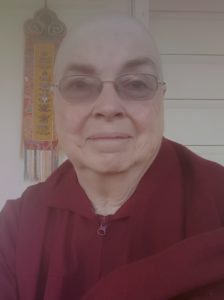 Sister Barani
Sister Barani has been a student of Vajrayana Buddhism for over 35 years. She graduated from Naropa University in 1985 with a Master degree in Contemplative Psychotherapy. She currently reside at Heartwood Refuge and Retreat Center
Learn more about Sister Barani